Take a trip to the foothills of the Siskiyou and Cascade mountain ranges, where peaceful streams flow into the nearby Rogue River. A tranquil paradise filled with natural treasures, you have discovered Ashland. The mountains, streams, and river lend themselves to some incredible outdoor recreation, so get ready! It's time to take a ride down these Ashland, Oregon, bike trails!
These Ashland, Oregon, bike trails are just the beginning of what Ashland offers! If you are searching for more outdoor recreation, simply download our free Ashland, Oregon, Vacation Guide. Our guide is full of local recommendations on the best outdoor adventure in the area.
The Best Ashland, Oregon, Bike Trails
The White Rabbit Trail
The White Rabbit Trail enjoys five miles of hills and beautiful views, and it attaches to several other biking trails! The Mad Hatter, Cheshire Cat, March Hare, Looking Glass, and Queen of Hearts are all loops that connect to White Rabbit, making it the ideal trail to enjoy some of the best biking that Ashland offers. The White Rabbit has several different trailheads, one of them even begins on our property at Country Willows! The White Rabbit Trail is perfect for those searching for an easy ride with some of the best valley views of Southern Oregon.
Difficulty: Easy/Moderate
Lithia Loop
Lithia Loop is one of the most difficult Southern Oregon bike rides that you will take, but the views are well worth the sweat. If you are searching for some of the most beautiful views of Mt. Ashland, this is the trail for you. It is a popular ride for many locals, and you can look forward to 28 miles of trail, including a steep 6 mile uphill start, 15 miles of level and rolling grade hills, and a steep 7 mile descent for the finale. This trail starts and ends in Ashland's Lithia Park and typically takes about three to five hours to complete. This trail also connects with The Caterpillar Trail and Catwalk Trail.
Difficulty: Strenuous
Bear Creek Greenway
The Bear Creek bike trail is an 20-mile, paved and multi-use trail. It connects the communities of Ashland, Talent, Phoenix, Medford, and Central Point. You will find a number of community parks along the trail that offer restrooms, drinking water, playgrounds, and picnicking opportunities. In addition, the Bear Creek Greenway provides easy access to many of Southern Oregon's best restaurants, coffee shops, and bike shops!
Difficulty: Easy
Book Your Stay at Country Willows B&B Inn
When you stay at Country Willows B&B Inn, you won't need to travel far to find some of the best bike trails in Southern Oregon. After a long day of biking through the heart of Ashland, head home to our bed and breakfast for a peaceful night in.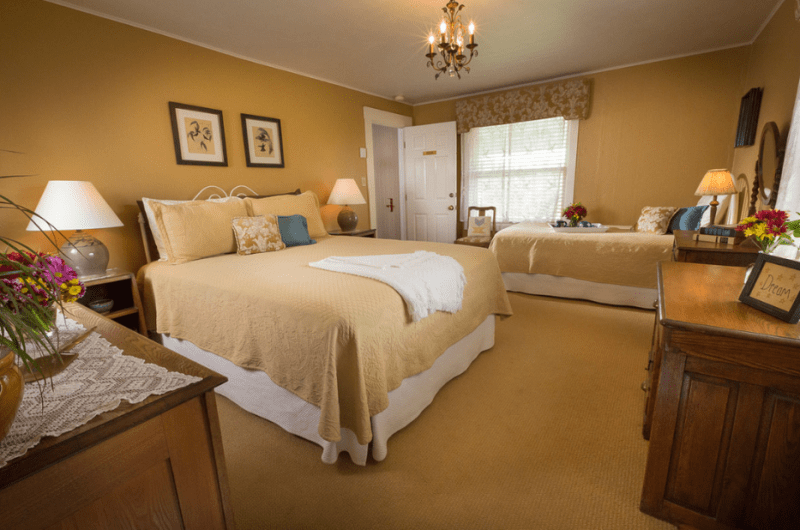 Country Willows B&B Inn offers a unique combination of Southern Oregon's beautiful mountain countryside along with proximity to downtown Ashland. Book The Cedar Room and enjoy views of the Cascades and pastures. The Cedar Room features one king bed, a twin size bed, onsite access to hiking trails,  free high speed internet, and more. Check our availability today! We can't wait to host you at Country Willows!
After a ride on these Ashland, Oregon, bike trails, you'll likely be hungry. Remember to download your free vacation guide to find local recommendations on restaurants, dining experiences, wineries, and more!