Many know Ashland, Oregon, as home of the Oregon Shakespeare Festival, but outdoor enthusiasts know this region for its serene countryside, pristine mountain lakes, and some of the best hiking trails in Southern Oregon. Ashland boasts countless incredible hiking opportunities, making it difficult to know where to plan your next outdoor adventure! Luckily, we've pinpointed 5 of the best hiking trails in Ashland to help get you started!
If crisp mountain air, singing birds, and breathtaking scenery sound like the perfect vacation to you, then look no further than Ashland. After discovering these 5 great Ashland, Oregon, hiking trails, request your free Southern Oregon Vacation Guide to find more great outdoor adventure like biking, canoeing, kayaking, and more.
5 of our Favorite Ashland, Oregon, Hiking Trails
1. White Rabbit Trail
You will explore beautiful woods and pass by several large boulders during your hike on the White Rabbit Trail. The tops of the boulders grant  great views of the valley and the city of Ashland. This trail is primarily used for hiking, trail running, and mountain biking, and is located just steps away from Ashland's beautiful countryside with a trailhead that begins at Country Willows Inn.
Difficulty: Moderate
Distance: 4.2 miles
Dog-friendly: Yes
2. The TID Trail
If you wish to continue your journey down The White Rabbit Trail, the Talent Irrigation Ditch (TID) Trail is directly connected. The TID is perfect for those who prefer flat runs and walks. Originally constructed in the early 19th century, the TID Trail runs alongside a small irrigation canal that aided in Southern Oregon's agriculture boom.
Difficulty: Easy
Distance: 2 miles
Dog-friendly: Yes
3. Grizzly Peak Trail
Feel the burn and take a hike on The Grizzly Peak Trail, we promise it will be well worth it! You will discover brilliant views of the encompassing Mt. Shasta, Pilot Rock, Mt. Ashland, the town of Ashland, and more! Take a glance at the Grizzly Peak Trail brochure before your next outdoor adventure to help plan the perfect trip. This trail is open to is open to hikers, mountain bikers, and equestrians.
Difficulty: Moderate
Distance: 5.4 mile loop
Dog-friendly: Yes
4. Hobart Bluff
Travel through gently rolling green hills and beautiful meadows on this short and sweet trail. During the springtime, the Hobart Bluff Trail takes on a unique persona like no other, with wildflowers blanketing the mountain landscapes. This forested trail is best used for hiking and trail running.
Difficulty: Easy
Distance: 2.3 miles
Dog-friendly: Yes
5. The Pacific Crest Trail at Soda Mountain
Spanning from the depths of Mexico to the peaks of Canada, you will find the Pacific Crest Trail. Thousands attempt to hike the entire trail each year, but only a handful successfully complete it. Soda Mountain, located near Ashland on the Pacific Crest Trail, deserves honorable mention. In fact, Ashland is boasted by Pacific North Cresters as a favorite place to stop and refuel. Take a daytrip to Soda Mountain and discover for yourself why so many can't get enough of the Pacific Crest Trail.
Difficulty: Hard
Distance: 2,650 miles
Dog-friendly: No
Other Great Ashland Area Hiking Trails
6. Toothpick Trail to Catwalk Trail Loop, Moderate
7. Alice in Wonderland Trail, Easy
8. Wagner Butte Trail, Hard
9. Mount Ashland Trail, Hard
10. Pilot Rock and Little Pilot Peak, Hard
Where to Stay
If you are an outdoor enthusiast looking to enjoy the beautiful countryside of Oregon, look no further than Country Willows Inn.  Hiking enthusiasts will love the Cottage. This accommodation is only steps away from The White Rabbit Trail and connects with more of the best Ashland, Oregon, hiking trails! You will enjoy a private patio with table and chairs, pastoral views of fields and mountains, a heated pool, and more when you choose this wonderful accommodation.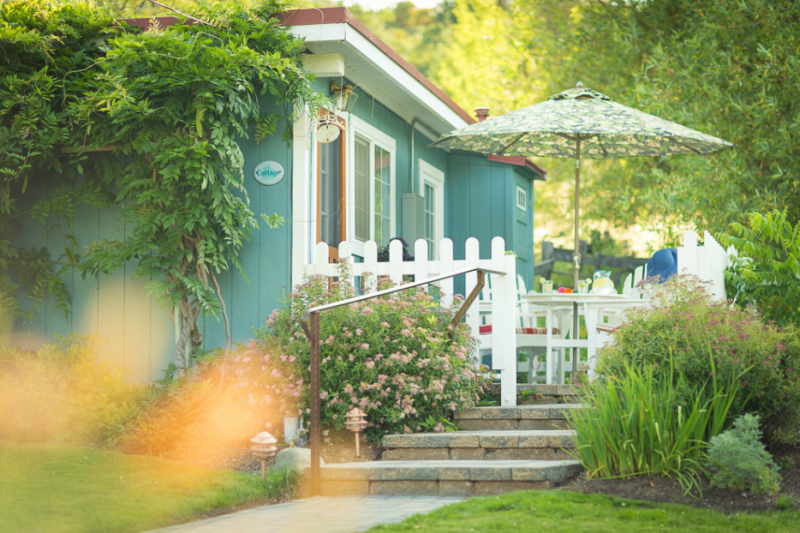 Each morning, start your hike off with the right nutrition and fuel with breakfast at Country Willows BB & Inn. Enjoy fresh brewed coffee and organic tea, along with a full two-course breakfast. Our morning breakfast includes juice, a fruit course, and a sweet or savory hot entrée. We are booking up quickly for the spring and summer, so check our availability today.
Don't forget to request your free Ashland, OR, Vacation Guide to find more great outdoor recreation!